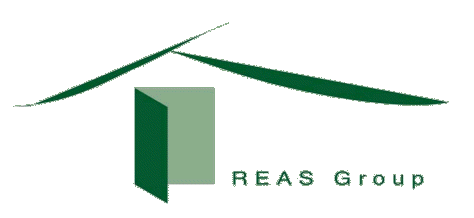 Seminar Cruise January 5 - 12, 2014
Royal Caribbean Allure of the Seas
Royal Caribbean Allure of the Seas

click ► above to play clip
please note that some facilities, products and services mentioned below may be optional and provided at extra cost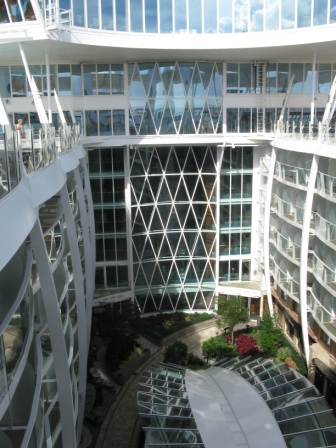 Allure of the Seas, the second Oasis class ship, is Royal Caribbean's newest and largest luxury cruise ship. Featuring seven distinct neighborhoods, it's likely you will not be able to experience all that is offered. Check out what is happening in various parts of Allure right now, click here.
Central Park offers a tranquil park setting surrounding visitors with living flora. Around the natural setting are several dining venues and a shop or two. The Park Cafe is a great stop for a casual lunch, featuring create your own salads and roast beef sandwiches hand carved while you wait. 150 Central Park is at the other end of dining spectrum offering sophisticated fine dining. You can enjoy tapas and a glass of wine at Vintages Wine Bar, an Italian feast at Giovanni's Table, or a great steak at Chops Grill.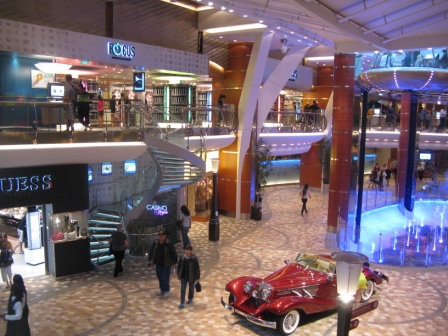 Think cobblestone street when you think about the Royal Promenade. At one end is the worlds first Starbucks® at sea, an important location for those who must have their Vanilla Latte or bold black coffee in the morning. At the other end one will find the Cafe Promenade offering Seattle's Best Coffee® (are you getting a feeling that the author likes coffee?), sandwiches, cookies, and other snacks. There are some great shops along the Royal Promenade, but the real attraction are the night spots. Boleros features Latin rhythms. The On-Air Club is where you go for karaoke. The Bow & Stern is a classic pub offering pints along with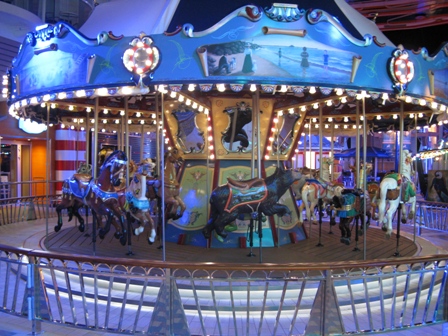 nightly entertainment. When the munchies hit, try a slice of fresh made pizza from Sorrento's or a cupcake from the Cupcake Cupboard. For an up and down experience, have a drink in the Rising Tides Bar. Rounding things out is the Champagne Bar where you can have a glass of your favorite bubbly.
The Boardwalk has a carnival theme. As you enter the area from midship you pass a display of carousel horses at various stages of completion. A little further on you'll find a functioning, authentic carousel. Amping up the carnival theme are places like a donut stop, ice cream shop, the Hot Dog (hot dogs, brats, sausages), Candy Beach (candy of course), Johnny Rockets (hamburgers), and Rita's Cantina (Mexican).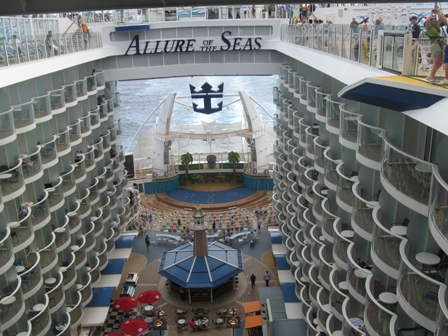 Anchoring the aft end of the Boardwalk is the amazing Aqua Theater. Make sure you take in a show, the diving and acrobatics are sure to please. Studio B is Allure's very own ice rink. During the day you can try your hand ice skating at sea, in the Caribbean no less. You'll also want to catch a show so you can oh and ah, (the author shuts his eyes), as performers spin, jump, and lift on a moving ship. The Amber Theatre is where you will watch Chicago, Blue Planet (don't miss this one), and other Broadway-style shows. There's Jazz on 4 for a prohibition era jazz experience, and Comedy Live where you will at least crack a smile. There is a lot more entertainment aboard, two dance clubs,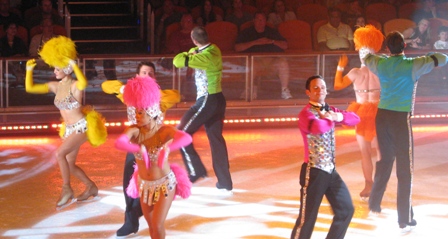 a piano bar among others. Casino Royale's eighteen thousand square feet of slots and tables offer an atmosphere sure to entice all those who feel lucky.
Up top Allure has four main pool areas one being a water park, a full size basketball court, adults only Solarium, mini-golf course, two FlowRider® surf simulators, a zip-line, hot tubs, and lots of deck chairs for lounging under the warm Caribbean sun. Elsewhere on the ship are two rock climbing walls, a jogging / walking track with ocean views, ping pong tables, and a shuffle board.
The Vitality Sea Spa and Fitness Center is spread over two decks. Offering a complete array of spa services in a tranquil and serene setting, this neighborhood also includes a nail & hair salon and full fitness center,
The Stats: Gross Tonnage 225,282 Length: 1,187 ft.; Max Beam: 213 ft.; Draft: 30 ft.; Cruising Speed: 22.6 knots.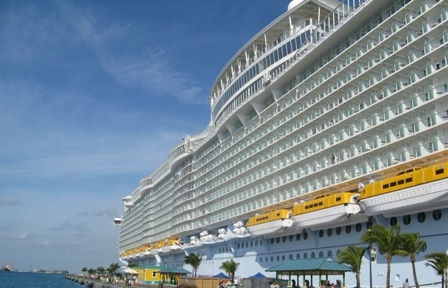 © 2012 REAS Group. 23APR2012,