2008
Royal Caribbean
Radiance of the Seas
8 Nights - 5 Ports
January 5 - 13, 2008
Ft Lauderdale; San Juan, Puerto Rico; St John's, Antigua; Charlotte-Amalie, St Thomas; Phillipsburg, St Maarten; Nassau, Bahamas
"The trip/work combination was great. What an ideal way to take a holiday!"
"The cruise was fabulous."
"I would love to do it again, wonderful time."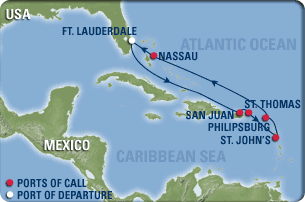 "Great trip, really enjoyed the whole adventure and look forward to the next one."
"It was great to be able to network with other agents from around the province."
"This last cruise was magical, everything was perfect."